4 - Add Network Technology Candidates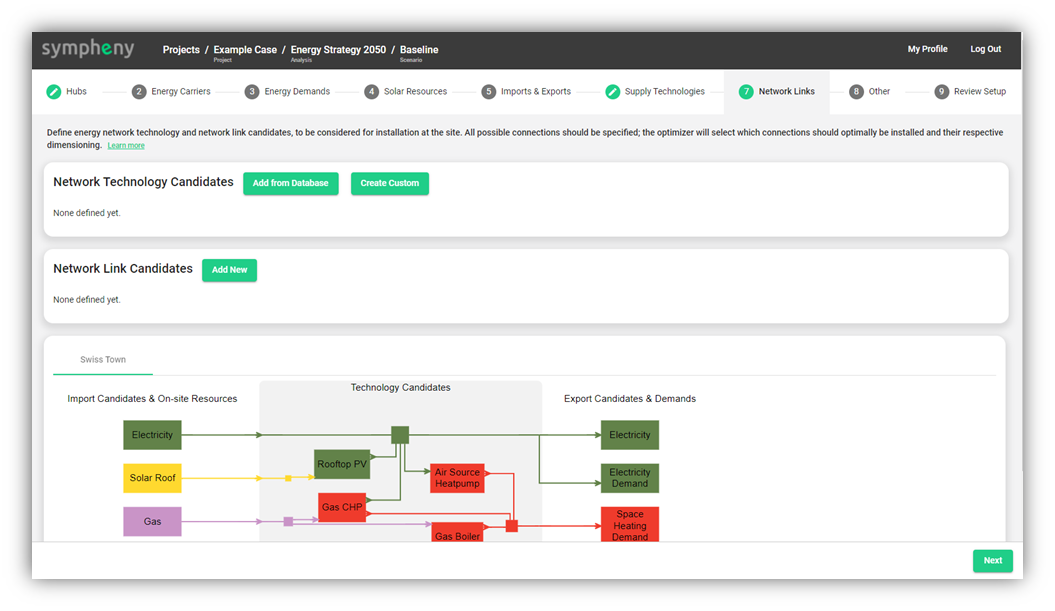 Network Technology Candidates and Network Link Candidates are used to specify the possible installation of network infrastructure for transfer of energy carriers between different hubs. Key features include:
A link candidate can be specified between any 2 hubs.

Multiple link candidates, e.g. corresponding to different energy carriers, can be specified between 2 hubs.

For each Link Candidate, a corresponding Network Technology needs to be defined, which specifies the technical and economic parameters of the link.
Similar to conversion and storage technologies, network technology candidates can be added from a database (Add from Database) or created from scratch (Create Custom)
Explanation of Network Technology parameters
PARAMETER

UNITS

REQUIRED?

DEFAULT

EXPLANATION

General parameters

Network Technology Name

Yes

The name of the technology; can be selected freely

Technical parameters

Energy Carrier

Yes

The energy carrier that can be transported with this network

Network Loss

%/m

0

The losses as % of total capacity per meter of network length

Maximum capacity

kW

Infinity

The maximum allowable capacity of the technology; only visible if Optimize is selected for "Technology capacity"

Minimum capacity

kW

0

The minimum allowable capacity of the technology; only visible if Optimize is selected for "Technology capacity"

Cost parameters

Lifetime

years

Yes

The financial lifetime of the technology; specified in years. This is used as a basis for annualizing the investment costs of the technology.

Fixed Investment cost

CHF/m

0

The fixed investment costs of the technology per meter (not annualized), incurred in the specified amount if the technology is installed, regardless of the sizing.

Variable Investment Cost

CHF/kW/m

0

The variable investment costs of the technology (per kW and meter of installed capacity, not annualized)

Fixed O&M Cost

CHF/m/year or
% of Total Investment Cost/m/year

0

The operation and maintenance costs of the technology per meter that are incurred as a fixed amount each year if the technology is installed

Variable O&M Cost

CHF/kW/m/year

0

The operation and maintenance costs of the technology (per kW per meter of installed capacity) that are incurred as variable amount each year depending on the installed capacity.

Environmental parameters

Fixed Embodied CO2

kg-CO2/m

0

The embodied CO2 of the technology (i.e. the CO2 emissions incurred in the course of the technology's production and installation)

Variable Embodied CO2

kg-CO2/kW/m

0

The embodied CO2 of the technology (i.e. the CO2 emissions incurred in the course of the technology's production and installation); expressed per kW per meter of installed capacity
Explanation of Network Link parameters
| | | | | |
| --- | --- | --- | --- | --- |
| PARAMETER | UNITS | REQUIRED? | DEFAULT | EXPLANATION |
| Optimization Options | | | | |
| This Network Link must be installed | | | FALSE | The hubs in which the technology is forced to be installed |
| | | | | |
| Technical parameters | | | | |
| Technology Capacity | Optimize / Specify Capacity | | Optimize | Select whether to Optimize the capacity or specify the capacity manually (Specify Capacity) |
| Capacity | kW | Yes, if "Specify Capacity" is selected above | | The pre-specified capacity of the technology; only visible if Specify Capacity is selected above. A non-zero value of this parameter does not force the installation of the technology. Rather, it only specifies that, if the technology is installed, this is the capacity which it must assume. |
| Node 1 | | Yes | | The hub which constitutes one of the extremes of the link. |
| Node 2 | | Yes | | The other hub which constitutes the other extreme of the link. |
| Network Technology | | Yes | | The network technology which can be potentially installed in this link geometry |
| Length | m | Yes | | Total length in meters of the network link |
| Uni-Directional Flow? | | Yes | No | Whether 2 directions or just 1 can be chosen by the optimization for this link. The Sympheny engine will choose whether 1 à 2 OR 2 à 1 is the optimal direction of the energy flow |